12 Nov

Community Mismanagement – NoSleep Halloween Live Tour Photo Blog

Greetings, Sleepless. Olivia here, back from the dead like a zombie with unfinished business.

As many of you know, a couple of weeks ago the NoSleep Podcast team performed a fantastic sold-out show in Toronto! I couldn't attend because I was off taking part in dark and sinister rituals for unspeakable reasons, but we sent along our intrepid reporter, aka Community Manager Krista Neubert. During her time with the cast and crew, she wrote this blog to give us an insight into the horrific goings on behind the scenes of our beloved podcast! And she took photos. Lots of photos. Photos I captioned which I'm sharing with you now in case a mysterious agency tries to erase me from existence. It happens more often than you'd think.

So without further ado, here we are with the first of Krista's guest blogs, which I have puntastically titled… Community Mismanagement.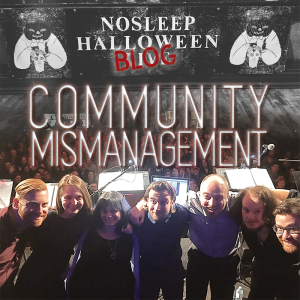 8:00 am October 26th: Luckenwalde, Germany
I left my house with my backpack and small suitcase after kissing my husband and dog goodbye. I walked to the train station and started my journey to Toronto with an hour-long train ride to the airport.
I got to Tegel Airport, checked in. I was told that I would need to go claim my bag at Heathrow, go through passport control, check-in with Air Canada, give them my bag, and go back through security, all within 70 minutes. I could do this. Definitely possible.
Turns out this wasn't possible. After ending up in the wrong place I was very certainly too late for my flight. Thankfully the next would be going in three hours. I shot David a text message with the info and hunkered down at Heathrow.
My flight turned out to be really great. It was basically half empty. There was no one else in my row of three seats so I was able to stretch out and get a little sleep… at least I think I did. My flight was a few minutes early. I was able to get off the plane pretty quickly and through passport control even faster… only to have to wait for over thirty minutes for my luggage.
Originally David and Peter were going to meet me at the airport because Peter was due to arrive about an hour before me if I would have been able to make my original flight. However, with the flight change he went to the hotel to get settled and I was greeted with very warm hugs from David and Nichole.
When we got to the hotel David got my suitcase out of the car and we walked to the lobby. EVERYONE was waiting for me. Everyone. Every single person greeted me with a warm hug and welcomed me to the podcast as a co-worker starting with Jessica, then David Ault, then Brandon, then Peter. I'd been looking forward to meeting everyone for a long time, and here it was.  
I changed as quickly as humanly possible and hauled butt back down to the lobby so that way the whole group wasn't waiting that long as I had already delayed their plans by three hours. We all walked out to David's car and climbed in.
David was in the driver seat with Ault shotgun. Behind him was Nichole, I sat to her left, and Brandon to my left. Behind him was Jessica's boyfriend, Strasberg, then Jessica directly behind me, and Peter to her right. I was smack dab in the middle of everyone. Inside jokes were flying all around me. Talk of the last tour. People poking fun at each other. Random voices. There may have even been some singing??
At the restaurant we were seated at a long table near the bar: Peter to my right, Ault across from me and Brandon across from Peter. I cannot remember everything about the conversation we had… I do remember Brooks sending me furious messages telling me take pictures and I replied with a photo of flatware and british pounds. I drank a Coke and marveled at the fact it was refilled without me saying anything.
Then Ault started his "Draw a Square" infomercial which had us all laughing… though I cannot remember the whole thing and trying to explain it would just not capture it properly. All you need to know is Ault is hilarious… and would make a really great, over-the-top infomercial host. (Is that a compliment? Sorry, David.)
6:00 am October 27th: Toronto
Sleep didn't last very long. I woke up at 6. David was up shortly after that and I sent him a message bidding him a good morning. He said I could migrate to his room and we could work until breakfast. I gathered my tablet, charger, portable charger, and phone and took the elevator up to the 10th floor.
I curled up in the armchair next to his desk and went about my work while he did some admin work. We listened to some music and chatted here and there until 9:30. Around 9:20 Peter sent me a message and I told him I was upstairs in David's room and he was the first to join us followed by Nichole, Ault, Brandon, Jessica, and Strasberg. We decided to head to Tim Horton's and grab breakfast.
Now, for those of you that have not been to Canada… Tim Horton's is no joke. There is one at least every block and they are all packed. It is a mad house. People want their damn coffee and sweet, sweet Timbits first thing in the morning. Lord help you if you get in the way. Have you ever seen an angry Canadian? Good, keep it that way. DO NOT STAND BETWEEN THEM AND THEIR T.H.!
We all crowded around three tables to eat. Confusion over who ordered what… people poking fun at Brandon because he doesn't eat meat. Peter almost melting his fingers off holding a cup of Tim Horton's lava-hot coffee. David snapped a photo to post on Twitter. You know, standard morning stuff.
That morning we went in two separate cars as we needed to fetch the t-shirts and bring them back to the hotel. All the girls went in one car and the guys in another. It was a nice way to get to know Jessica and Nichole a little better. Jessica and I both realized two things in the car:
We were both frozen.

We are both horrible at keeping tabs on our phones.
Once we fetched the eight boxes of shirts we drove back to the hotel and took a brief break before we went back up to David's room where I sat in on the first rehearsal.
First thing was first. David played the intro for the Halloween show. Then we all settled in and I watched as they ran through all the stories. It was interesting seeing the back and forth, the suggestions on line delivery… the discussion about sound effects… and timing. Sometimes there were even discussions about wording. One in particular was about a swear word. Should it be a real swear word or should it be what was in the script? In the end it was decided it didn't really matter and the word could be changed during the live performance if the voice actor saw fit to do so.
Rehearsals took up the majority of that late morning and early afternoon. We went on break around 3:30 but had to leave the hotel by 4:30 to be to dinner with the contest winners by 5.
We once again piled into David's car. The traffic into downtown Toronto at that time was horrible. When we finally pulled into the parking garage and piled out of the car we had a few minutes left until we were supposed to meet the contest winners at the restaurant… if we could only locate the damn place. Ault had gotten out of the car before we parked to see if he couldn't locate the place and the contest winners before we did.
We spent the next 10 or 15 minutes wandering around trying to find the location. While on the hunt we stumbled upon something – or, I should say, someone – awesome. Manen Lyset! He was just as lost as we were in the middle of that mall. Everyone hugging everyone. Another public display love fest for all to feast their eyes on.
David finally sorted out where we needed to go and we trotted off back in the direction we had come from and finally, FINALLY located Jump!
It was a very, very nice restaurant. Probably the nicest place I have ever eaten in. We met the contest winners Laura and Brendan. This is also when Jeff Clement arrived with Violet (David's executive assistant) and their son. We sat down and proceeded to chat and eat for two hours.  
About 15 minutes before 7 we departed Jump! and walked a few blocks to where the Ghost Tour was gathering. I sat with Manen on a marble bench and we took a selfie to send to Brooks… who was again messaging me demanding photos.
As I sat there with Manen and Peter, a guy walked up to David and asked if we were part of the ghost tour. David turned around and said "Yes, but you need to go speak with that lady over there."
He paused, looked at David and said, "I am Matt Bradford."
We all busted out laughing. David apologized and introduced everyone.
Our Haunted Walk tour guide was named James. I would love to tell you everything that happened along the way here but I feel that it would be better to just take the walk yourself when you are in Toronto (this is my sneaky way of saying that I can barely remember anything factual and I don't want to look like a fool).
The tour was an hour and a half long and we ended at a museum where we could do a scavenger hunt and/or drink hot cider. The night was very humid and it was too warm inside for me to stay much longer than a few minutes so Peter and I ended up chatting outside in the alley to cool down. Manen joined us not too long after and broke out these amazing cookies he had made.
Soon everyone was outside except Ault who was intent upon finishing the scavenger hunt. Jessica and Matt were transfixed by a group of guys standing on a high rise balcony taking selfies a little too far over the railing. "I'm sure that guy is about to fall. We're about to watch someone die, people." Thankfully that never happened, at least not while we were standing there to watch.
It was decided that we would walk over to a diner to have some drinks or a snack and sit around and chat for a little longer. At this point I was super exhausted, having had only 4 hours of sleep, but what's a NoSleep Live show without sleep deprivation?
We got back to the hotel and bid each other goodnight with tentative plans to meet the following morning at 9:30 for breakfast.
7:00 am October 28th: Toronto
The next morning, we headed out to do some errands. Upon returning to the hotel we divided up breakfast food. Ault took Nichole's and Brandon's as they were on the same floor. I took Peter's because he was on the way back down to my room. Shocking information: he drinks coffee and likes sausage croissants. I KNOW… I know, I was fully expecting to have to ask one of the employees to donate a kidney for Peter's breakfast but luckily he enjoys more standard breakfast fare.
Once he had received his breakfast, I went back to my room and ate half of mine just in time to head back upstairs for more rehearsals.
This time things were a bit different as Jeff and Matt were there and everyone could play their proper roles. Brandon also brought up his keyboard and played music throughout the rehearsal.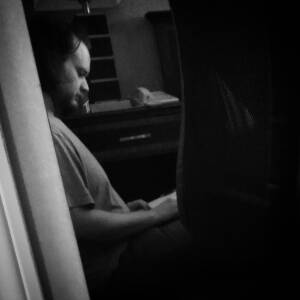 The rehearsals went on pretty much all morning into the early afternoon. We kept getting interrupted by the maid wanting to clean David's room. It was borderline comical after the third door knock.
We broke for a break around 3 and decided to meet up again around 4:30 to decide what to do for dinner. I spent my downtime working on social media stuff.
At 4:30 we were all back in David's room where everyone was given a gift from Jessica's mother. And we all decided to head over to the Pickle Barrel in the mall across the street for dinner.
Of course Saturday it was freezing outside as we slowly wandered across the street and then across the parking lot and made our way downstairs to the restaurant. I sat across from Ault again. However, this time he sat next to Brandon and Peter sat across from him. We got into a discussion about living outside of the USA. Brandon had some sort of healthy bowl with beets. WAY MORE BEETS than any human being should ever eat. Peter ordered some sort of asian bowl and I am still jealous of his chopstick skills. I need a little plastic helper when I use them.
We left the restaurant and once we were up on the main floor of the mall, David gathered everyone for a photo outside of Victoria's Secret. 

We walked back across the street to the hotel, said goodbye to Matt and all piled into an elevator to our various floors. David suggested meeting in his room in about a half hour to decide what to do for the night. Some of the team headed to David's room to play "Cards Against Humanity" while others headed to my room to watch a movie. My room, my choice of film. So I had to pick my favorite: The Shining.
We got comfortable and just a few minutes in Peter, who had never seen The Shining, tells me he will be back in a bit. At this point I had come to expect this from him. He is a bit like a ninja. He is here, he is there, he is behind you, he is next to you, he is across the street, he is walking on an elevated planter, he is trying to climb a tree… he just comes and goes rapidly. Soon the reason for Peter's departure became clear: a sudden live stream of the card game going on upstairs. Peter might be a ninja but he is also dedicated to the podcast.
He returned about an hour later apologizing profusely for suddenly disappearing. We resumed watching The Shining. Given how often the team introduce us to fantastic new horror, it was awesome it had been to introduce one of my favorite voice actors to my favorite scary movie.   
7:00 am October 29th: Toronto
I got up and got ready for the day. Rehearsals were at 10:30. I spent the morning doing social media stuff and chilling in my room.
The rehearsal was not nearly as long or intensive as the last few days. They basically wanted to go over sound effects and timing. Discussed when people would leave the stage and return.
We loaded up the cars around 2pm, stopped at the bank, and Tim's for coffee because we all needed it. We arrived at the venue shortly before 3pm where Manen was waiting for us with Nichole's husband, Sean. We helped bring things inside the venue and then Manen, Sean and myself made our way across the street to the fan meet up. We got there and sat down… and waited for about a half hour. No one else was there. Suddenly Manen's phone rang. Someone was asking if we were still in the venue because everyone had gone outside and the door was locked. David said we also needed to go fetch the music stands. We had to leave the fan meet up without meeting anyone. We hadn't even gotten a chance to finish our drinks.
We stopped by the venue to pick up Strasberg and we walked over to Manen's airbnb where we briefly met his father. We picked up huge bags of Halloween candy and music stands then walked the 15 minutes back to the venue.
Manen, Sean, and myself spent the next little while setting up all the candy, taking photos, and doing test live streams with Brooks and Jimmy to make sure everything was working properly. Around 4:30 we went out to take photos of the line that had formed outside where we ran into Laura and Brendan.
We took our seats at the front of stage.
I started a live stream on the NSP Facebook Page and three minutes later the show started.
The show ended with a photo of the cast and the audience and then everyone came down from the stage to meet fans and take photos. After a few of the cast members asked me to sign various things, which I thought was super sweet.
After the last fan had left we were given about 15 minutes to pack up our stuff and leave. We drove around looking for a place to eat at 10 pm on a Sunday night. We ended up at a Denny's. I sat next to Manen but by that stage were all fairly exhausted and dinner was pretty chill. We ate and Manen demanded one last photo with everyone. Then we headed back to David's car where Manen and I embraced for what must have been 3 minutes.
We all said goodbye and got into our respective cars to drive back to the hotel.
Peter, Jessica, and Strasberg all had to be the airport really early the following morning. Nichole and Sean agreed to drive them. I set my alarm for 5:15 so I could say goodbye.
5:15 am October 30th: Toronto
My alarm went off and I got up. I grabbed my cardigan, slipped on my slipper boots and headed downstairs. I took a seat right across from the elevators and waited.
Peter was the first down with his rather light luggage load. Men and their ability to travel light… amiright ladies? We sat and talked for a few minutes until Jessica and Strasberg came down. Then Nichole and Sean joined us.
We walked out to Nichole's car and it was super windy and cold. Peter hugged me. Then I hugged Jessica, Strasberg, and Nichole. Wished everyone a good flight and hurried back inside so as to not freeze.
Around nine Ault stopped by as he was leaving to give me a hug and say goodbye. We wished each other a safe trip home and I went back to packing.
A few minutes later, I shot David a message on Facebook asking what the plans were. He said that he, Brandon, and myself could go to Tim's for breakfast and then check out. He would bring us both to the airport and make sure we got checked in OK and then leave us to finish up his day.
In the car Brandon and David were talking about how the show had gone. Brandon and I talked a bit about Germany over breakfast. When we were done and back in the car I told Brandon how much I admired his ability to write new music for basically every single story on the podcast as I don't have a musical bone in my body. We stopped at the hotel briefly to grab our bags, loaded up the car and headed to the airport.
Once there Brandon checked in first. He checked his keyboard through oversized luggage and then David and I both hugged him and said goodbye.
David walked me over to my check-in area. The machines were not able to read my passport for some strange reason so we had to wait in line. I couldn't check my baggage yet because my flight was much later in the evening. David walked me over to a seating area and chatted for a few minutes before giving me a big hug. We thanked each other and said goodbye.
And that was it. Everyone was gone.
My flight left the airport a little before 8 pm and I arrived back home at 2 pm the following day.
It was a wonderful, fantastic weekend filled with joy, laughter, and of course mortal terror. The show was a huge success, and the upcoming tour is going to be spectacular.
But there are questions: Will I ever get a gif of Vampire Roddy's twitchy eye? Will Brandon ever eat another beet? Will Peter and I actually start that podcast where we watch scary movies and provide commentary akin to Mystery Science Theatre? Will David ever stop pretending that he is bald? Will Ault and James team up for a Ghost Walk in the UK? Will Jessica and I ever stop not really misplacing our phones and freaking out over nothing?
I hope all of these questions are answered in the future. I deserve these answers as much as you do.
– Krista