22 Nov

NoSleep Podcast S6E09

It's episode 9 of Season 6. On this week's show we have five tales about undead urchins, miniature misery, and frightening filth.

The full episode features the following stories. The free version features only the first two tales.

"We Were Wrong About the Zombie Apocalypse" written by Rhonda Hussey and read by Corinne Sanders. (Story starts at 00:04:00)

"Sleepless" written by L. Chan and read by David Ault & Erika Sanderson & James Cleveland. (Story starts at 00:21:10)

"In the Backyard" written by Manen Lyset and read by Aiko van Wingerden. (Story starts at 00:59:00)

"The Ballad of Sadie and Madeline" written by Rona Vaselaar and read by Jessica McEvoy & Nichole Goodnight. (Story starts at 01:09:40)

"Be Careful Whose Messes You Clean Up" written by Dylan Pecelli and read by Peter Lewis. (Story starts at 01:34:30)
---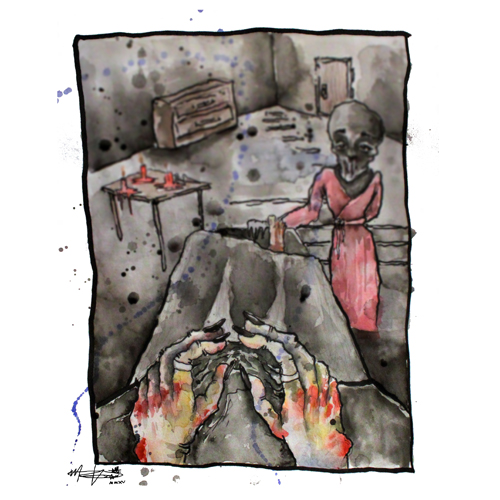 ---
Click here to learn more about artist Matthew Kocanda
Click here for the podcast's Facebook page
Click here for the podcast's Twitter page
Click here for the podcast's Tumblr page
Click here to learn more about L. Chan
Click here to learn more about Manen Lyset
Click here to learn more about Rona Vaselaar
Click here to learn more about Corinne Sanders
Click here to learn more about David Ault
Click here to learn more about Erika Sanderson
Click here to learn more about Aiko van Wingerden
Click here to learn more about Jessica McEvoy
Click here to learn more about Nichole Goodnight
Click here to learn more about Peter Lewis
---
Podcast produced by: David Cummings
Music & Sound Design by: Brandon Boone & David Cummings.
"Sleepless" illustration courtesy of Matthew Kocanda
Audio program ©2015 – Creative Reason Media – All Rights Reserved – No reproduction or use of this content is permitted without the express written consent of Creative Reason Media. The copyrights for each story are held by the respective authors.