24 Jan

NoSleep Podcast S6E17

It's episode 17 of Season 6. On this week's show we have seven tales about terrifying traps, diabolical deals, and temporal transgressions.

The full episode features the following stories. The free version features only the first three tales.

"Char" written by C.K.Walker and read by Jesse Cornett & Nichole Goodnight. (Story starts at 00:04:35)

"The Thing in the Bathroom" written by Malcolm Teller and read by Jeff Clement & Kyle Akers. (Story starts at 00:20:30)

"The Pit" written by E. L. Brym and read by Nikolle Doolin. (Story starts at 00:39:40)

"My Friend from College" written by Lauren Munera and read by David Cummings & Corinne Sanders. (Story starts at 01:05:00)

"No Photo to Sleep" written by A. Gin and read by James Cleveland & Nikolle Doolin & Nichole Goodnight. (Story starts at 01:15:50)

"The Crimson Dandelion" written by Nick Lardon and read by Mike DelGaudio & Erika Sanderson & Kyle Akers. (Story starts at 01:37:15)

"The Journal of Soul Selling" written by Doug Hantke and read by David Ault & Alexis Bristowe & Erika Sanderson. (Story starts at 01:55:00)
---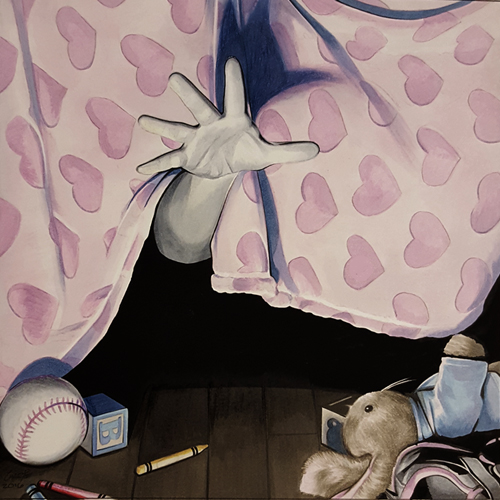 ---
Click here for the NoSleep Portrait
Click here for The Black Tapes Podcast
Click here to learn more about Darkness Prevails
Click here to learn more about Charlie Cody Art
Click here to learn more about C.K.Walker
Click here to learn more about Malcolm Teller
Click here to learn more about Doug Hantke
Click here to learn more about Jesse Cornett
Click here to learn more about Nichole Goodnight
Click here to learn more about Jeff Clement
Click here to learn more about Nikolle Doolin
Click here to learn more about Corinne Sanders
Click here to learn more about James Cleveland
Click here to learn more about Mike DelGaudio
Click here to learn more about Erika Sanderson
Click here to learn more about David Ault
Click here to learn more about Alexis Bristowe
---
Podcast produced by: David Cummings
Music & Sound Design by: Brandon Boone & David Cummings.
"The Pit" illustration courtesy of Charlie Cody
Audio program ©2016 – Creative Reason Media – All Rights Reserved – No reproduction or use of this content is permitted without the express written consent of Creative Reason Media. The copyrights for each story are held by the respective authors.